Atlantic Fasteners Blog Capabilities Guide
Atlantic Fasteners Publishes Capabilities Guide
The new 8-page Guide includes a comprehensive section on the firm's barcode Point-of-Use Vendor Managed Inventory and Self-Scan offerings, according to Marketing Manager Tony Peterson. He said it details the steps each VMI program eliminates in the time-consuming process of monitoring stock levels, ordering, receiving, putting away, and paying for small value, repetitively consumed items.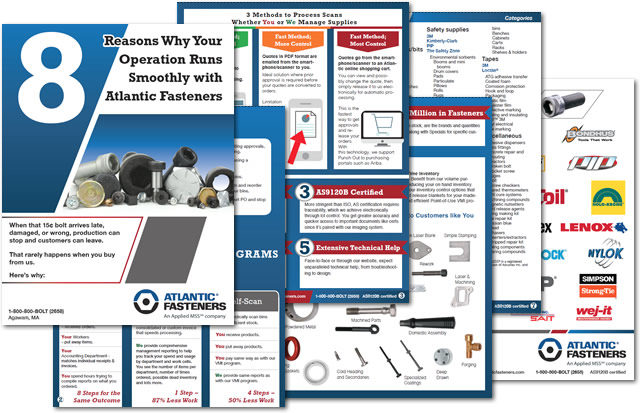 It also includes a picture-filled description of Atlantic's Made-to-Print Services, which covers everything from laser-cut parts to custom seals and gaskets. "Our Made-to-Print Services started as an offshoot of our custom fastener offerings," said Peterson. "Customers who were satisfied with our fastener Specials started asking for help on unrelated items, such as stampings and powdered metal. As a result, after 38 years, Atlantic now has hundreds of sources worldwide," he said.
Other highlights include Atlantic's accuracy and service level stats.
The line card portion of the Guide has also been updated and redesigned. Now, at the top of each product category, such as socket products or rivets, are the corresponding primary brands that Atlantic carries. So instead of displaying separate "Brands" and "Category" sections, they're combined for easier reference, said Peterson.
New additions to the line card include safety, cleanroom, and custom gasket lines, he concluded.
The new Guide is available in downloadable PDF format here.