Focused on Performance, Quality and Customer Service
Vision
To consistently be the "lowest total cost" commercial and military/aerospace fastener supplier in the United States.
Who We Are
Atlantic Fasteners offers products such as industrial pipes and fittings, construction fasteners, anchors, shoulder screws, bolts, cutting tools, cleaners, and other hardware. We've been serving the commercial, construction, aerospace, military, and industrial markets since 1981.
The truth is we are so much more than the products we sell. Our team is focused on:
How We Work
Anyone can say they are all about quality, service, and performance but we live it every day. Through our Kaizen program (quality improvement sessions) to offering the latest in inventory technology (VMIs) to the experienced team members (some of whom have 30+ years in the business) to transparent reporting and a wide range of value-added services, it's clear we are focused on supporting our customers' success.
Performance
Atlantic Fasteners is data-driven. Anyone can say they outperform their competitors but we like to track our performance level and make adjustments as needed to ensure our customers are getting the high-quality performance we say we offer.
Our service level is consistently above 94%
Service Level is a measurement that combines fill rate results with on-time delivery. It's the percentage of lines ordered that we deliver on time, 100% complete.
We calculate the fill rate more stringently than many suppliers by omitting partial deliveries. So if you order 10 different size hex nuts and we ship 9 lines complete, but only 99 out of 100 pieces on the last, the fill rate for your order is 90%, not 99%.

For the on-time delivery component of service level, we track the number of orders delivered on-time according to your initial delivery date requests or your later acceptance of revised deliveries due to our suppliers' tardiness.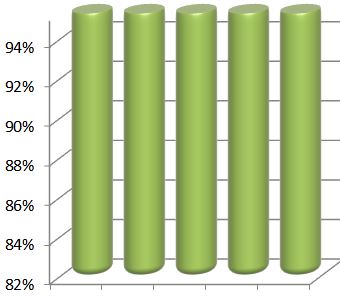 Our accuracy rate is consistently over 99%

To improve our processes and your satisfaction with us, Atlantic Fasteners tracks both internal and external errors by department, such as warehousing, purchasing, and order entry.
Internal errors affect employee productivity and morale
External errors affect you, the customer
Taking both categories combined, our accuracy rate is consistently over 99% as a function of the number of order lines shipped.
For warehouse shipping errors alone, we customarily make fewer than 20 errors per year while shipping some 135,000+ order lines.
Quality
Our goal is to be the "lowest total cost" commercial, construction, industrial, and military/aerospace fastener distributor in the United States.
To achieve this goal, we hire top-notch people and provide them with the most technologically-advanced systems to constantly monitor and improve our operation for the benefit of our customers.
One program which has really helped reduce internal and customer errors is Kaizens. The purpose of kaizens is to solve a problem or improve a process through the concerted, uninterrupted effort of a cross-functional team.
Kaizen (Business Process Review) sessions can focus on topics that may arise during:
Weekly quality meetings

Value stream mapping

Error tracking

Trending analysis
For over 20 years, we've been conducting two to three kaizens per year with the help of an outside facilitator. Typically, an employee team meets for three, half-day sessions. These sessions help boost our operational efficiency and also introduce team members to aspects of our business they might otherwise not be exposed to which improves their understanding and appreciation of a variety of functions as well as the overall business.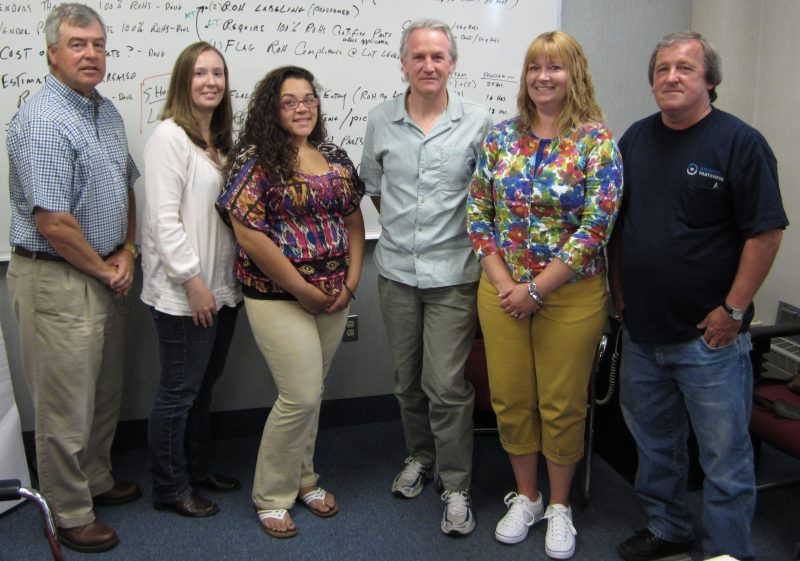 The reward is exceptionally satisfied, loyal customers and employees who prosper along with us.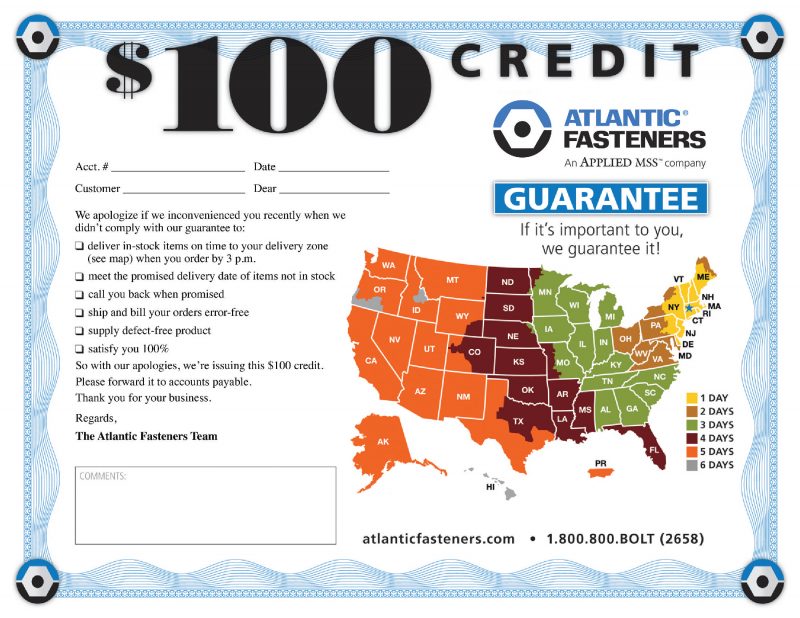 Service
$100 Service Guarantees…since 1986
Tired of late deliveries, errors, broken promises, and inferior fasteners from other distributors?
Atlantic Fasteners' remarkable 99.96% reliability and accuracy rating is a testament to the superior service we offer. And anytime we fail to meet your expectations, you'll receive a $100 credit towards a future order.
We guarantee outstanding services like on-time delivery, callbacks when promised, error-free shipping and billing, zero-defect products, and 100% customer satisfaction.