Atlantic Fasteners Technical Tips: Set Screw Products
Set Screws
Set Screw Point Styles and their Uses

| | | | | | | | |
| --- | --- | --- | --- | --- | --- | --- | --- |
| Pros | Plain Cup | Knurled Cup | Flat | Oval | Cone | Half-dog | Soft-tipped |
| Holds parts permanently | X | X | | | X | X | |
| Creates most compressive force | | | | | X | | |
| Resists vibration best even in poorly tapped holes | | X | | | | | |
| Readjusts without damaging surface | | | X | X | | | X |
| Aligns well against ground flats | | | X | | | X | |
| Fits well into locating holes | | | | | | X | |
| Fits well into locating grooves | | | | X | | X | |
| Can act as an adjusting screw | | | X | | X | | |
| Can work as a pivot or hanger point | | | | | X | | |
| Can be used as backing for soft metal or plastic plugs | | | X | | | | |
| Designed for soft or hard sufaces | X | X | | | X | | |
| Use against thin wall material | | | X | | | | |
| Can contact surfaces at an angle | | | | X | | | |
| Cons | | | | | | | |
| Gouges surfaces | X | X | | | X | | |
| Shouldn't be used on very soft or harder than 30 Rc surfaces | | X | | | | | |
How to Mechanically Lock Set Screws

Socket Jam Screw Sizes
| | | | | | | | | | | | | |
| --- | --- | --- | --- | --- | --- | --- | --- | --- | --- | --- | --- | --- |
| Size | 4 | 8 | 10 | 1/4 | 5/16 | 3/8 | 7/16 | 1/2 | 5/8 | 3/4 | 7/8 | 1 |
| Length | 5/64 | 7/64 | 1/8 | 1/8 | 5/32 | 3/16 | 7/32 | 1/4 | 5/16 | 3/8 | 7/16 | 1/2 |
| C = Coarse | C | C | C | C | C | C | C | C | C | C | C | C |
| F =Fine | - | - | F | F | F | F | F | F | F | F | F | F |
Simple Way to Properly Tighten Set Screws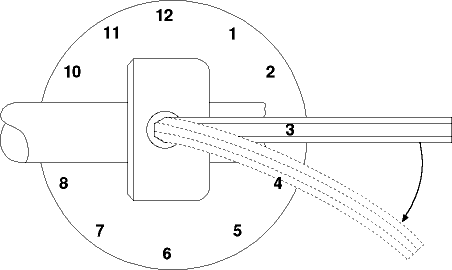 Set Screws – How Tight is Tight Enough?
To tighten new, standard, alloy, cup point set screws, install an allen wrench with the short end in the socket, long end in your hand, and tighten until the wrench bends or twists about 30° (1 hour on a clock face). Then the set screw is as tight as it should be. More tightening only risks damaging the set screw, allen wrench, or both.
Imagine a clock face under your set screw assembly. The set screw is tight enough when the wrench bends the distance of about one hour.
Learn More - How Tight is Right for Socket Head Screws?
We guarantee outstanding services like on-time delivery, callbacks when promised, error-free shipping and billing, zero-defect products, and 100% customer satisfaction.