Benefits of a Maintenance Area Overhaul
Maintenance Area Overhaul Eliminates Stockouts, Reduces Inventory, & Boosts Efficiency
Upgrading and reorganizing maintenance areas
Recently, our corporate division's Conversion Team spent 3 1/2 days upgrading and reorganizing the maintenance area of a large Massachusetts manufacturer.
"They revamped a 240 square foot section holding over 1,500 items, stored in an overflowing mishmash of old, multi-colored bins, shelves, and drawers," according to company spokesman Tony Peterson.
In their place, the team built and secured two opposing 20' long by 6' tall walls of neatly labeled storage bins.
What the Conversion Team does - Analyzing the storage needs of maintenance departments
"The Conversion Team is based at our Applied MSS℠ division headquarters in Cleveland and is comprised of five dedicated specialists who travel nationwide upgrading and reorganizing maintenance storage areas," Peterson explained.
"They analyze the storage needs of maintenance departments, draw up detailed plans, recommend appropriate equipment, and meet with customers for approval before proceeding," he continued.
"The replacement storage equipment they install – which in this case totaled 200 bins, drawers, threaded rod stands, hose clamp racks, and tubing and fuel line cabinets – are on permanent loan to customers through their agreement to purchase a predetermined amount of supplies, annually."
Problems uncovered; solutions implemented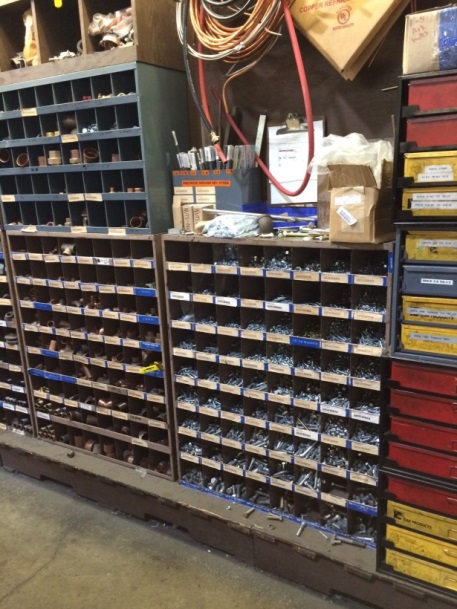 For this conversion, the team found a predictable list of problems:
Inadequate storage space

Parts not stored in their proper places

Obsolete, used, unidentified, and

duplicate items scattered about
That meant the customer faced costly stock-outs and emergency buys, daily.
The conversion team went to work tagging and removing obsolete items, transferring parts to new bins, removing old bins, identifying missing and low inventory items, then compiling an initial replenishment order.
An Atlantic Fasteners inventory specialist now manages stock levels, weekly. He maintains proper supply levels, which eliminates excess inventory and stockouts, and keeps the area orderly.
"This is a money-saver, obviously," explained Peterson. "And by relieving the maintenance crew from non-productive inventory management tasks, it boosts their efficiency, which adds to those savings," he concluded.