Inventory Management Self Scan Apps for Android and iPhone
New Self-Scan Apps for Android and iPhone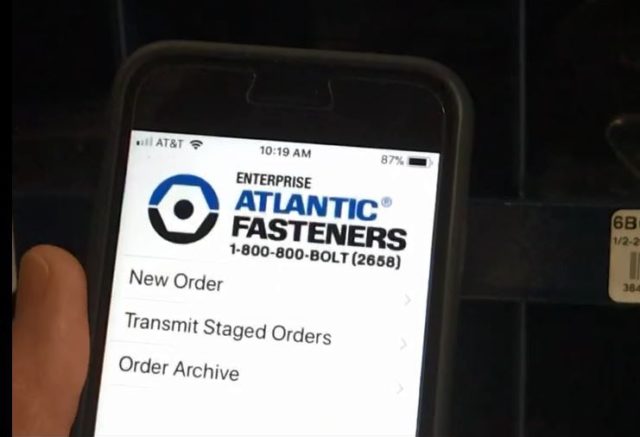 Self-Scan App iPhone
Atlantic Fasteners has updated its popular iPhone app which customers use to manage their own inventories, according to General Sales Manager, Marco Morgado. He said the new app is now compatible with Apple's recent release of its iOS 11 operating system and scans faster than the previous version.
Atlantic's Self-Scan process works as follows:
Atlantic salespeople help customers determine their fastener and industrial supply needs

Atlantic provides bar code labels from the compiled list

Customers stick the labels on their storage bins and cabinets

Customers maintain inventory levels themselves by scanning the bar codes when needs arise

Then they transmit the orders from the app to Atlantic by Wi-Fi or wirelessly

Atlantic ships in-stock items same day when orders arrive by 3 pm
Morgado said the app is available on Apple iTunes, here.
Self-Scan App for Android
Released in 2018 the Android app will run on popular Samsung, HTC, and other Android phones. As with the iOS app, the Android app will be free.
With interest in its Self-Scan inventory management system growing, Atlantic Fasteners has launched a new Android app version to accompany its current iPhone app.
"We realize that not all customers have iPhones, so we produced the Android app with the same capabilities," noted Marco Morgado, general sales manager.
He explained that both apps are available online in the appropriate Apple App or Google Play stores. He said they're listed at $49.99, but customers committed to managing their own inventories with either app are given a promo code to download it for free.
The updated Self-Scan How-to video, shows in less than one and a half minutes, how simple it is for customers to manage their own inventories with labels and an app we provide.