Atlantic Fasteners Technical Tips: Socket Head Cap Screws
Socket Head Cap Screws
Socket Head Cap Screw Basics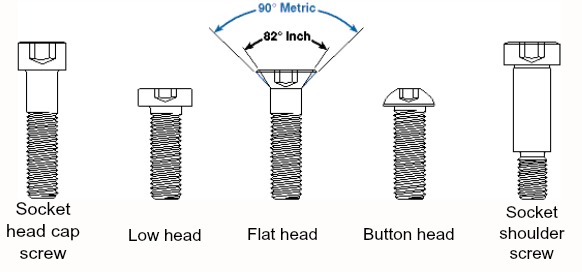 Socket Head Cap Screw – strongest of all head styles
Head height is equal to shank diameter.

Shouldn't be mated with a regular hex nut, which isn't as strong.
Low Head Cap Screw – designed for applications with head height limitations
Head height is approximately half the shank diameter.
Flat Head Cap Screw – for flush applications
Caution: Inch and metric have different countersink angles.

Mismatching fastener and hole countersink angles can result in premature fastener failure
Button Head Cap Screw
A larger head diameter makes it more appropriate for holding thin materials like sheet metal guards.

Because of its internal hex drive style, it's ideal for tamper-proofing applications.

A good substitute for other drive styles that are prone to stripping like Phillips and slotted.
Socket Shoulder Screw
Typically used as a pivot point or axle because shoulders are ground to a tight tolerance.
Thread Class
Socket head cap screws 1″ diameter and under have class 3A fit (tight tolerance).

Over 1″ have a class 2A fit (typical hex cap tolerance).

All other head styles and diameters have a class 3A fit.
Socket Head Cap Screw Markings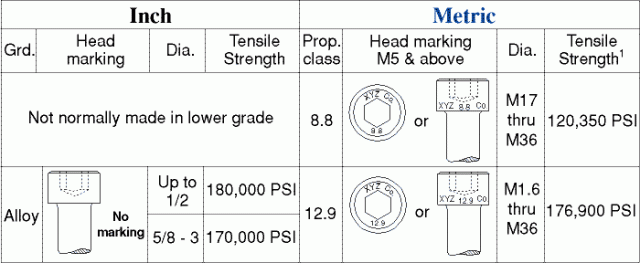 Inch has one strength level, alloy steel.
Metric has two strength levels, property classes 12.9 and 8.8.
8.8 is about 30% weaker.
8.8 is also 20 – 50% less expensive.
Caution: Don't substitute 8.8 for 12.9.
For metric M5 and larger, the property class and manufacturer's I.D. is marked on the head.
How to Measure Socket Head Shoulder Screws

To specify inch shoulder screws:
Call out shoulder diameter, then the shoulder length
Example: 5/8″ x 2″ = a shoulder screw with a 5/8″ diameter shoulder, 2″ long.
Thread size is one standard size smaller than the shoulder diameter and needn't be specified, except for:
A screw with a 1/2″ diameter shoulder has a 3/8 – 16 thread.
A 5/8″ diameter shoulder has a 1/2 – 13 thread.
Why? 7/16″ and 9/16″ are not stocked shoulder diameter thread sizes.
To specify metric shoulder screws:
Call out shoulder diameter, then the thread diameter, then the shoulder length
Example: 12/M10 x 30 = a shoulder screw with a 12mm shoulder diameter, a 10mm thread diameter, and a 30mm shoulder length.
We guarantee outstanding services like on-time delivery, callbacks when promised, error-free shipping and billing, zero-defect products, and 100% customer satisfaction.