Atlantic Fasteners Tech Tip Announcement: Two Actual Size Charts Released
Two Actual Size Charts Added to Site
Atlantic has added an inch o-ring and inch fastener length Actual Size Chart to its Helpful Tech Tips section of its website, according to Marketing Manager Tony Peterson. "We invested a lot of time in making sure the charts are dimensionally correct," he said.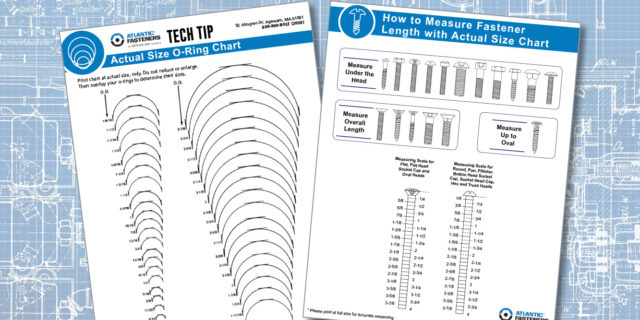 Inch O-ring Actual Size Chart
The O-ring chart covers ¼" to 3 7/8" outer diameter sizes. When the chart is printed at actual size, the end user simply aligns his or her inch size o-ring within the boundaries displayed to find the correct size.
Inch Fastener Length Actual Size Chart
The fastener length chart is an updated version of an earlier chart that showed line drawings of various flat, round, and oval head fasteners and how to measure them. Additional fastener styles have been added to the original, such as carriage bolts, plow bolts, truss head machine screws, and lag screws.
Another new feature is the addition of actual size inch length charts for oval, flat, and round head threaded fasteners from ¼" to 4" long. The user lines up inch fasteners atop the chart outlines to quickly determine the length.
The key to getting accurate measurements when using both charts is printing them at actual size.