Atlantic Fasteners Technical Tips: Fastener Basics
Technical Information and Charts to answer some frequently asked questions related to pitch diameter, thread pitch, fastener specifications, head styles, and more
Standard Thread Pitch and Diameter Charts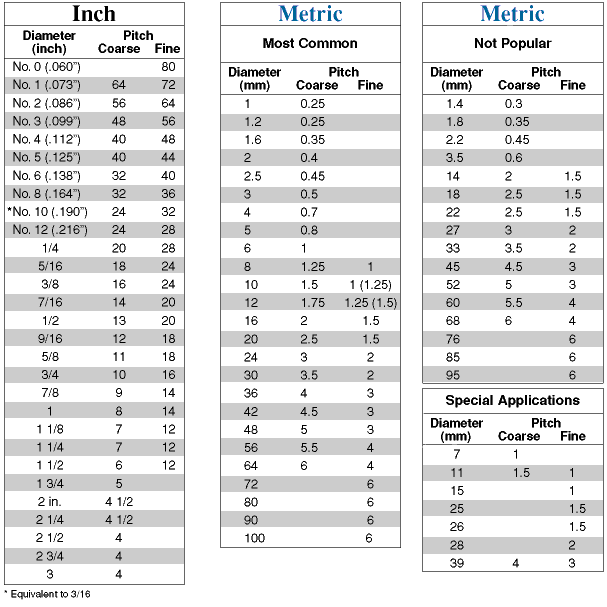 *Distance traveled same as pitch shown
Note: To determine the tap drill size for metric fasteners, simply subtract thread pitch from the fastener diameter and drop all but the first decimal place.
Example: M12 – 1.75 = 10.25 is a 10.2 tap drill size
What is Thread Pitch?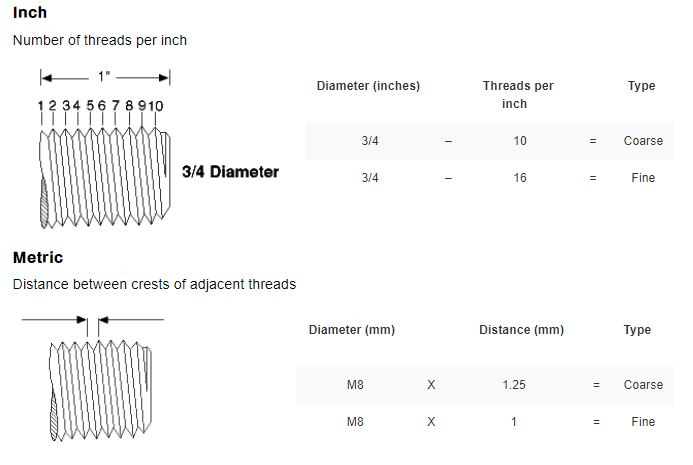 Tips for Choosing Fasteners
Fasteners are widely used in the manufacturing process and choosing the correct fastener for your application is critical to a successful outcome. There are a variety of metal fasteners to consider including screws, nuts, bolts, rivets, threaded inserts, and rods.
In addition, the material used in the production of fasteners must also be considered as it will influence the fasteners' strength, longevity, and functionality.
Finally, the specific characteristics of the fastener need to be considered. These include the diameter, threads per inch, length, drive style, head style, strength level, and plating/coating that has been used. Taking into consideration all of these items will ensure you select the proper fastener for your application.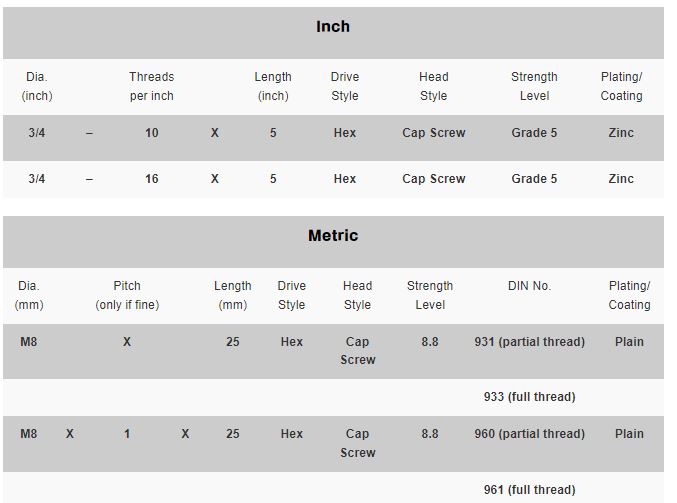 When to Replace Fasteners
The following four conditions may warrant fastener replacement:

Elevated temperatures, like welding, could affect heat treatment and/or plating.

Other cautions include:

Zinc plating starts burning off at 140 degrees F and completely burns off at 250 degrees F.

Cadmium plating: Completely burns off at 400 degrees F.

Black finish (thermo-black from heat treat): Exceeding 400 degrees F will destroy heat treatment.

Excessive or undue stresses. If one fastener of a group breaks, like one stud out of four on a wheel of a car, it can overstress the remaining fasteners, resulting in their failure.
Corrosion. Rust can create stress points that lead to failure and, obviously, if left long enough, can weaken or destroy fasteners.
Critical applications. When in doubt, replace these fasteners rather than risk their failure.
How to Measure Fastener Length
Note: Print at full size for accurate measuring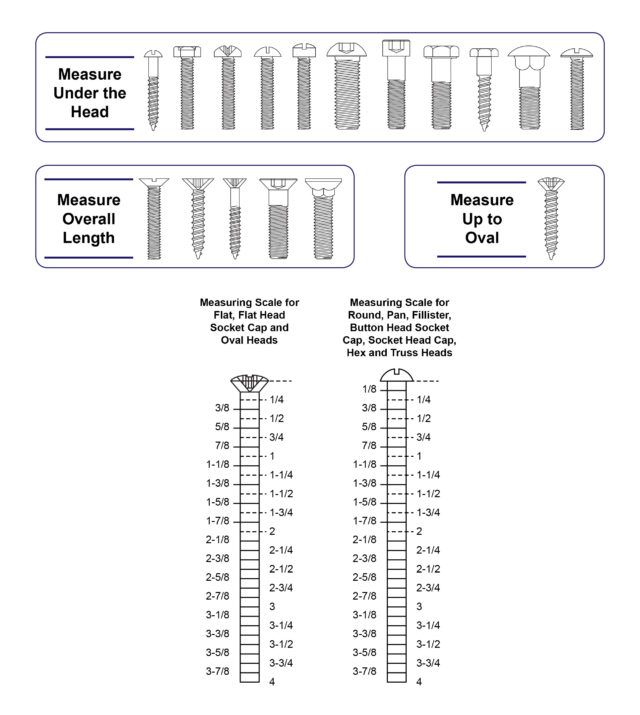 Common Fastener Head Styles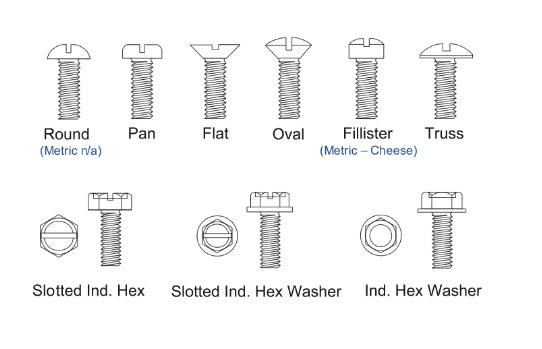 Cut vs. Rolled Threads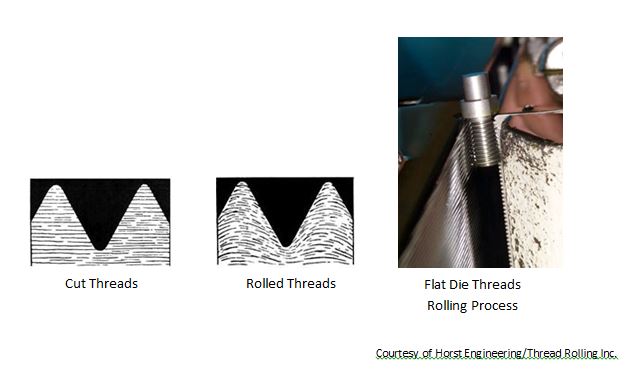 Rolled threads, extruded by dies, are stronger than cut threads, made on a lathe or with a hand die, because their grain flows in more than one direction, following the contour of the fastener.

Do not re-cut the threads of a roll-threaded fastener. (Re-cutting may affect heat treatment and plating. When re-cutting, you lose approximately two threads due to a lack of material on the taper between the threads and the shank.)

Rolled threads are smoother than cut threads, so there are no high spots to prevent proper torquing or allow loosening.

It takes a lot more labor to cut threads than to roll them, making this process more costly.
Don't Overlook 80% of your Fastener Costs by Buying on Price Alone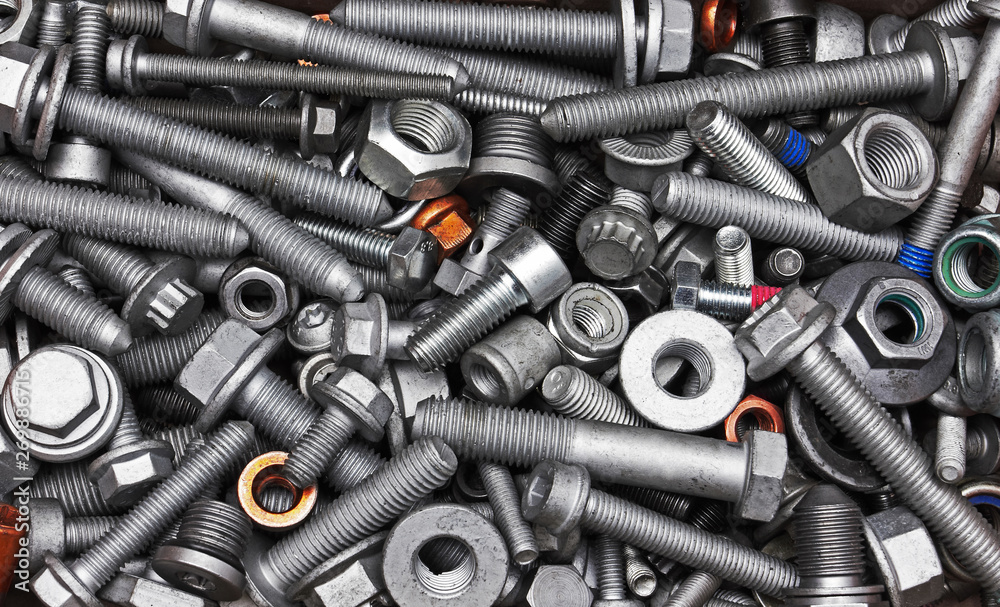 Most companies buying fasteners do not think of them as investments, yet that can be a missed opportunity. A well-established concept in the fastener industry holds that the price of fasteners makes up only 18 percent of their total installed cost, whereas "soft" or unseen costs make up the remaining 82 percent.
We guarantee outstanding services like on-time delivery, callbacks when promised, error-free shipping and billing, zero-defect products, and 100% customer satisfaction.